Regular price
Sale price
$15.00 USD
Unit price
per
Sale
Sold out
per month
Compare to Retail Price $170
Age Range: 6 months+
Average Rental Duration: 4-6 months
Typical Savings (renting vs. buying): $95 (save 56%)
Whether learning to crawl or taking first steps, the minute little ones are on the move, parents need a baby-proof area to keep them out of harm's way—and give parents peace of mind. Skip Hop's Playview Expandable Enclosure features six cloud-print mesh panels that allow visibility between parent and child while keeping baby contained.
The décor-friendly design can be arranged as a spacious, free-standing play yard with an easy-open door panel. The airy, yet sturdy, steel-frame panels also work together as a room divider with secure wall mounts (included) anywhere you choose. A detachable clip-on play surface with eight engaging activities grows with baby—from seated to standing play.
Features

Printed mesh panels offer a modern décor look while allowing visibility between parent and baby.

Detachable clip-on play surface with 8 activities can be used for seated or standing play

Play surface features: rattle bead spinner, shooting star clicking mover, cloud teether, reflective sun mirror, light-up raindrop, singing bird toy, plush cloud with satin ribbons

Includes hinged door panel for easy access

One-handed door entry with secure closure

Red indicator shows parents when door panel is open

Creates over 20 square feet of playspace in multiple configurations with 6 panels

Can be configured as a room divider or barrier with included wall mounts

Also works as a room divider

Dimension & Details

Play enclosure size (inches): 35.8w x 27.6h x 2d; cm: 91w x 70h x 5d

Toy panel size (inches): 16w x 25h x 2d; cm: 41w x 63.5h x 5d

Product Materials: Sturdy steel frame


What's included in my rental?

Play pen

Clip-on play surface


View full details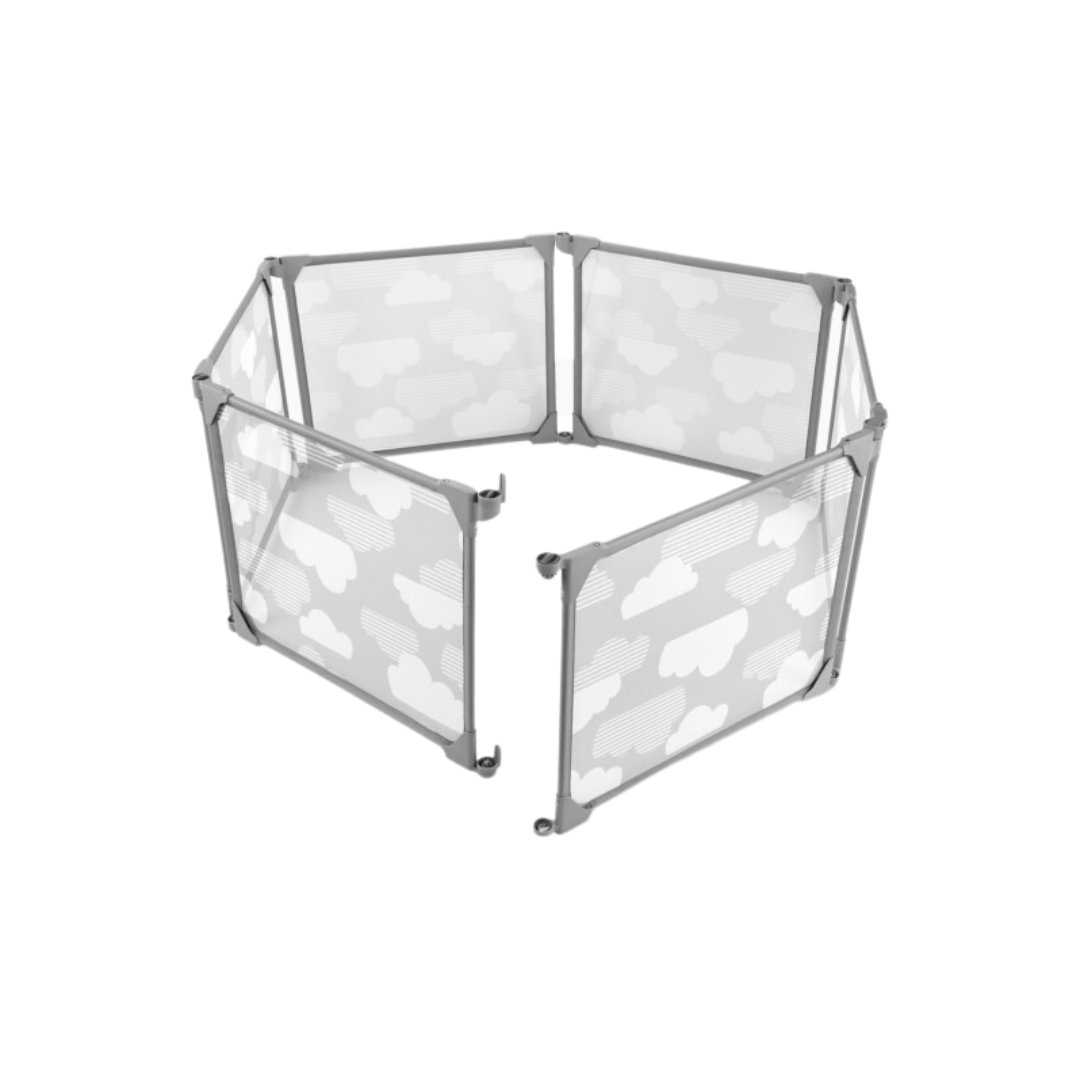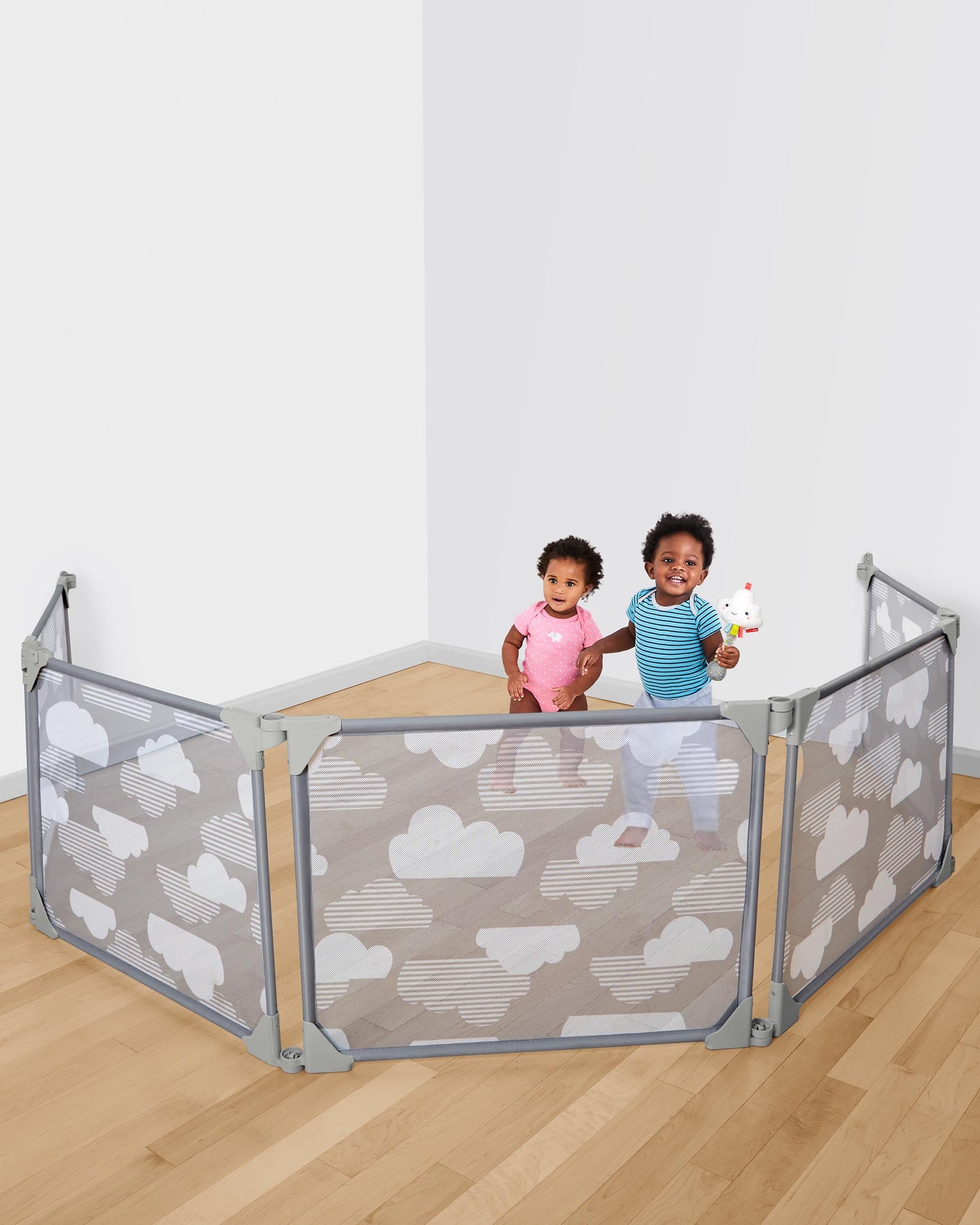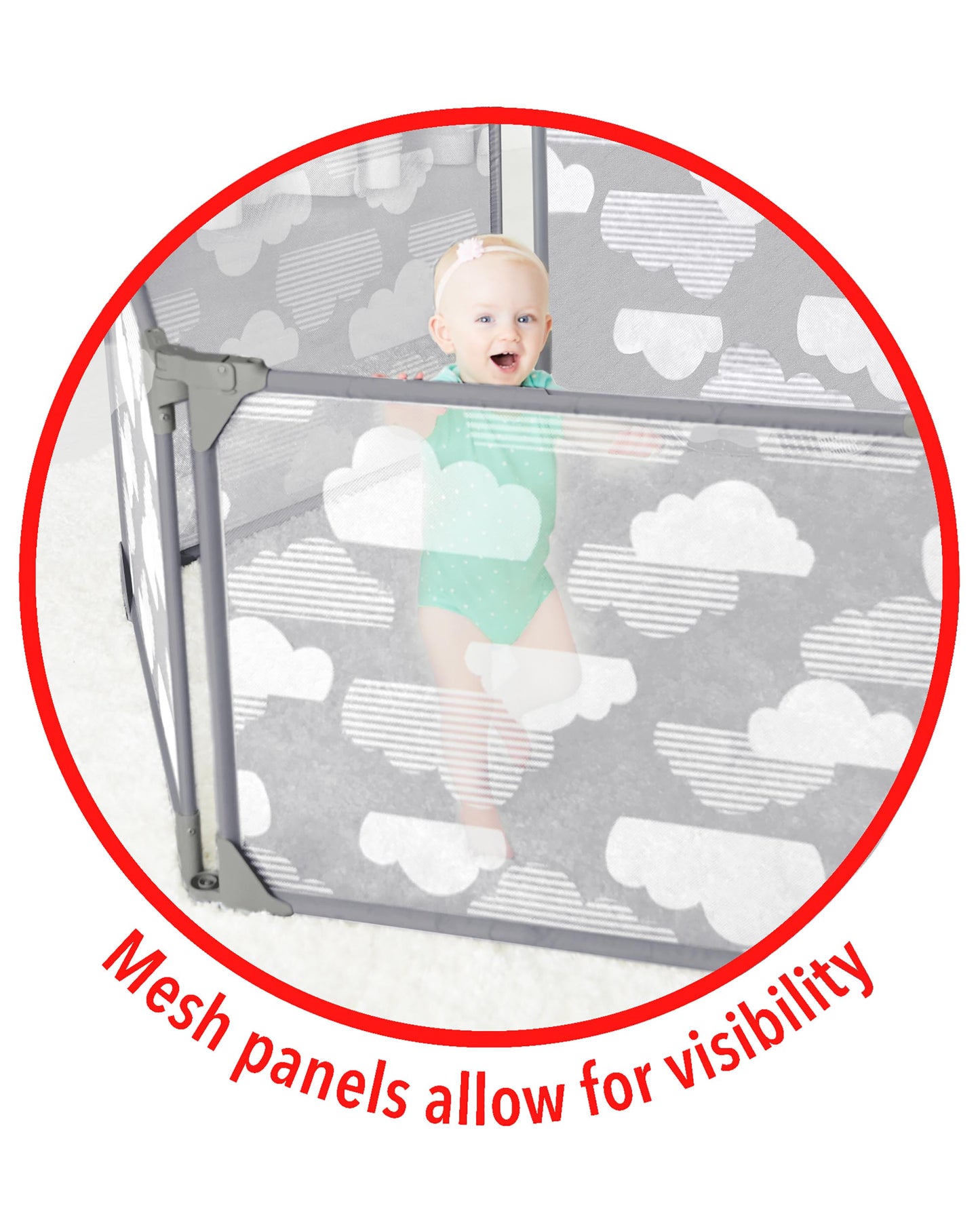 Additional Product Details
Delivery & Returns

You may book your rentals weeks and months in advance! This is great to ensure you'll have the gear you need delivered when you need it. For ASAP bookings, we can typically deliver within 7 days.

At checkout you'll be prompted to select your preferred delivery date.

When you're done using your gear, simply cancel your rental in your customer account. We'll follow-up to schedule a pick-up date.

We charge $30 at checkout to cover delivery and pick-up.

Gear is delivered package-free, clean, sanitized, inspected, and ready to use!
How Billing Works

We bill on a monthly basis.

At checkout you'll be charged for your first month's rental + delivery if applicable.

We won't bill you again until 1 month after your delivery date. We encourage you to book in advance! You can reserve rentals up to 1 year out!

We'll continue to charge your payment method each month until you cancel your subscription in your customer account.

If you are ready to part with your gear, be sure to cancel your subscription before your next bill date.
Cleaning & Inspection Process

Each piece of gear goes through a 3-point cleaning and inspection process before it's delivered to you.

1.) Clean product according to manufacturer's specifications. We only use gentle, baby-safe products such as castile soap, distilled vinegar, warm water, baking soda, and free & clear detergents.

2.) Sanitize products using methods specific to the product's material. Depending on the product, we may use UV, steam, and/or NICU-grade medical device disinfectant.

3.) Inspect products to ensure products were cleaned and sanitized completely and that the gear functions safely. If gear does not satisfy inspection, it is removed from our inventory to be repaired or replaced.
Care & User Instructions

All gear is delivered cleaned, sanitized, and ready to use.

Refer to fabric tags and/or the user manual for instructions on how to care for your gear during your rental.

Please reference the user manual for safety information prior to use.
Bundle and Save
Rent two pieces of gear and save 5%. Rent three or more and save 10% on your subscription each month. Discount automatically applied in your cart.
Become a Member
Join our Annual Membership for $200/year. Get unlimited free deliveries and returns, save 10% on each rental, take advantage of our Try-to-Buy program, and access our gear guide course.